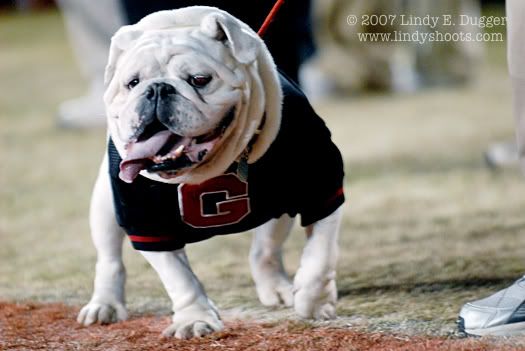 For JW and MCGDawg, and fellow Dawg fans out there, the Georgia G flags are at half-mast, as our beloved mascot, UGA V's Whatcha got Loran? (a.k.a. UGA VI) passed away last week. He was buried in Sanford Stadium on Monday with his predecessors. The winningest Dawg that we had, he was also the biggest one of the bunch. I read a column that Loran Smith had written over the weekend, where he describes his relationship with UGA VI, which bears his name growled in typical Munson fashion. I was really struck with the attachment he felt to UGA VI, and understood why that might have been the case. We're with ya, Loran.
I think for any Georgia grad that got into football during their time in Athens, the favorite Dawg is the one that was there during your college years, and for me that's definitely true. I got a little misty-eyed when I went to the first game that I didn't see UGA V, and they showed his highlight reel. My all-time favorite was the lunge at the receiver from Auburn. And then I saw this huge, feisty, crazy UGA and knew that we'd be in good hands.
Like a Phoenix rising from the ashes, there will be an UGA VII, and he will be no less special than those that have come before him. It could be a great year, especially if we can keep the offensive linemen out of troulbe (WTF?)! I can't wait to see who's going to be announced as UGA VII, should be exciting!
Rest peacefully, UGA VI, DGD.