Please don't call it "Nawlins." I guess it's OK to call it the "Big Easy," but even that makes it sound like you've never been there before.
So, CLG and I went to NOLA, left the DOG with his grandparents, and had a little early autumn work vacation. What we found was that there are a lot of great places to eat, andmost of them won't break the bank.
Just a word about New Orleans, post-Katrina. Understand the geography, the closer to the river and French Quarter, the better off it is. The closer to lake, and the further west, the worse. A lot of these restaurants are houses in Uptown and the Garden District that are converted and have limited service availabilty.

Here's where we went:
Classic streetside French Quarter, a little bit of a wait, but everything moves through there pretty quickly. What they do have is char-grilled oysters! Primo, dude. Hard to beat the Po Boys. Solid but not jaw-dropping. Well known for what their name implies.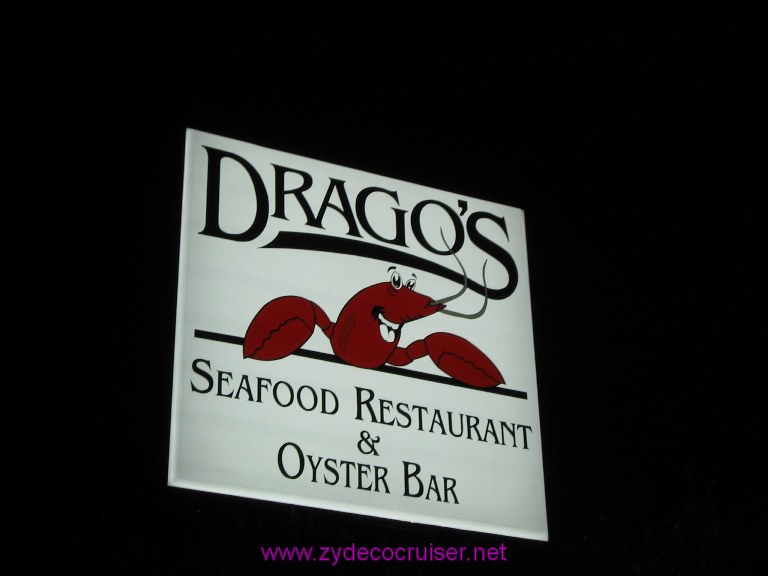 Apparently the Metairie location has closed. This place is also known for the char-grilled oysters, but they also do a lot of lobster. Prices are reasonable, but it is lobster after all. Highlights were lobster salad, char-grilled oysters with butter and parmesan, stuffed lobster, and whatever combination of fried fish and ditch critters you want.
Classic old New Orleans, went there on a recommendation after everyone and their brother and sister that I talked to said that they were going to August, which was the hot restaurant this fall based on the notariety of the chef on the food network. Galatoire's wasn't what I'd exactly call Creole, although it's possible that I just don't know what I'm talking about. What it was to me was French style versions of the Louisiana seafood/swampfood that we all love. Why did we like it more than anything else we had?


The waitstaff. These guys (and they were all guys) knew what they were on about, were confident in their menu (as they should have been), and were spot on with the recommendations. No expert, but read Kitchen Confidential. If the waiter thinks it's good, it probably is, but if he thinks it's bad, then avoid it like the plague.
Redfish. Seems to be making a comeback, as there is a limit to what you can catch in the wild. More and more, they're growing them like catfish on farms. Done with a brown butter sauce and covered with fresh crabmeat, it was near perfect.
Appetizer with fresh boiled/chilled shellfish. Only qualm was that they included fried oysters, which didn't seem to fit. Again, the crabmeat was awesome, no matter what sauce they served it with.
The menu. It looked a little bit overwhelming at first, but then the more you looked at it, it was systematic. There were several meat choices, and they could all be cooked in standard French/Creole fashion. Hard to argue with successful tradition.
Desserts. The best thing that they had was a banana bread pudding. Better to me than Foster bananas, but that's just me. More of a comfort dessert.
No reservations. Come whenever.
Beard award winner from 2002, this place had a lot of promise. For the most part, it was great. One of the things that struck me about it was the roux and the sauce that they included with a lot of the dishes. The gumbo was some of the best that I've ever had, and it started with the roux which was nice and dark. I had sweetbreads for the first time, and I was pleasantly surprised. The way it was explained is that it picks up the flavor of the surrounding sauce, and has a neat texture. Where I went wrong was with the duck. Must admit it was overcooked, and a little bit dry. They tried to get past this by adding the heavy roux sauce. Beef tournedos were great, as was the soft-shell crab. Good wine list. All in all solid, don't get the duck. Deserts, including the ice cream was fantastic.

Classic, it's hard to beat a shrimp and oyster Po Boy in the quarter at 11:00 in the morning with Zapp's Cajun Crawtators.


Final word:
Good food, reasonable price, alcohol everywhere. Hard to go wrong! Sadly, we missed out on the Emeril restaurants and Commander's, but you have to draw the line somewhere. My liver and girlish figure are glad to be home from Vegas and NOLA in the span of 2 weeks. So's my wallet.